Description
Once you have the firmware files (free to download) and the scatter TXT file for your specific radio,
all in the same directory
, proceed as follows:
Installing a new ROM to your radio can be a tricky process, whereas the most complicated issue is to have the drivers installed properly. You need a PC running Windows XP, 7, 8 or 10.
1 – Download the latest SPFlashTool executable from  SPFlashTool.com

2 – Download the following drivers for Windows XP/7/8 or for Windows 10.
3 – To install the drivers, just run the respective installer for XP/7/8. For Windows 10, you need to follow all these steps, one by one, to be able to install the Windows 10 drivers.
4 – Run the SPFlashTool.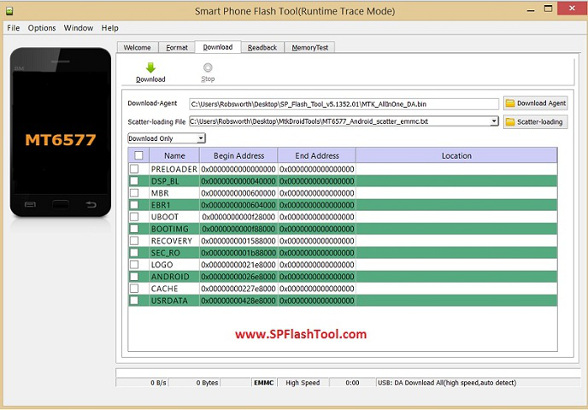 5 – The Download-Agent should be as in the picture above – select the file MTK_AllInOne_DA.bin
6 – The Scatter-loading File is the MT6570_Android_scatter.txt that you find inside the directory specific for your radio.
7 – The combobox should be set to "Update Firmware"
8 – Click on "Download"
9 – Make sure that the radio is OFF and connect it to the USB port, without turning it ON.
10 – The firmware installation will start automatically.